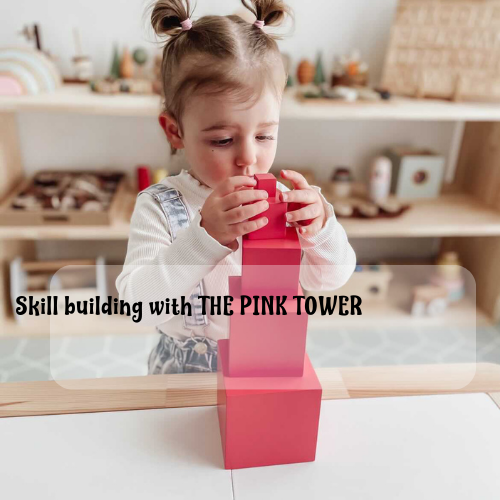 Skill Building with the Montessori Classic Pink Tower
A Classic and staple in every Montessori early learning class! 
The tower won't stack unless in order, which helps develop building skills.
Early introduction to Math and Geometry, The Pink Tower teaches that math has only one right answer. Through a play-and-learn method, your child will gradually start growing problem solving skills.
Supports brain development as the child sees, feels, touches, and understands concrete geometric shapes. It can be stacked horizontally or vertically.
The ability to stack is an important skill that allows your child to use their little fingers & hands and develop & refine their motor skills.
Caters to the innate sense of order present in every child.

Develops problem solving skills

Supports cognitive development as children need to use both thier hands to stack

Fosters focus & concentration as

building skills

are necessary

Refines spatial reasoning - the ability to judge how to place an object in relation to its surroundings. In order to go for

cognitive development, early childhood

is the best time.
Observe your child immersed with stacking the Pink Tower from the 'Ray of Hope' Play & Learn bundle for 22+ months and play and learn for long stretches of time.
FAQ:
How can I arrange the Classic Pink Tower?
You need to place the cubes on upon the other starting from the largest one at the bottom to the smallest one at the top. Show it to your child, un-stack it and let the little one play and learn.
How will my child be benefitted by using the Classic Pink Tower?
This will enhance cognitive development, childhood maturity and building skills of your child.
When can my child start playing with Classic Pink Tower?
Your child can start playing with Classic Pink Tower from an age of two years till six years.