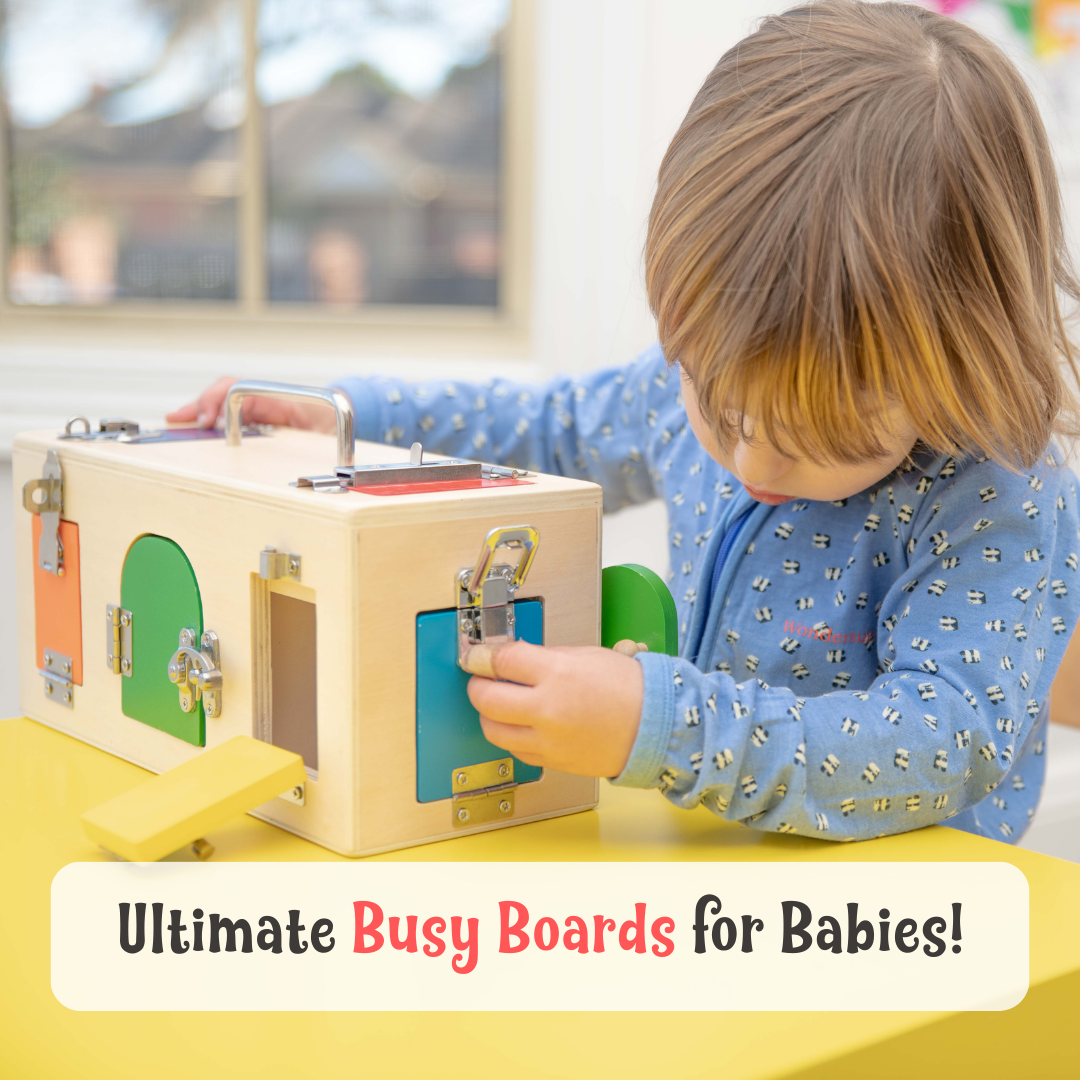 The Top 4 Busy Boards for Toddlers & Babies
Ever wondered what it's like when your active inquisitive toddler gets busy with an interesting learning toy while you get some time to finish that last load of laundry? 
We understand the struggles of being a parent and juggling daily home chores, work, and managing a growing toddler; it gets difficult to balance all of them. It's equally important to spend quality time with your child and keep them busy, happy, and learning, which is where busy boards for toddlers come in.
These activity boards are a great way to keep your toddler or baby entertained and engaged. They are also a great way to help your child develop fine motor skills, hand-eye coordination, and problem-solving skills.
What do busy boards do?
They're like magical boards filled with fun stuff like buttons to push, switches to flip, and doors to open. 
When kids play with these boards, they learn how to use their hands and fingers cleverly. Plus, they figure out how things work, like when they press a button and something pops up, creating a memory and problem-solving experience.
What age is suitable for a busy board? 
Children around 1 year of age and older are typically suitable for busy boards. At this stage, children are beginning to develop their fine motor skills, and these interactive activity boards provide them with engaging activities that can help improve their hand-eye coordination. 
They are designed to be safe, with no small parts eliminating any choking hazards, making them an excellent pick for curious kids and helping them understand the cause-and-effect relationship and developing their cognitive skills.
Benefits of Busy Boards:
You can find a busy board that will suit your child's interests no matter what. And, because they are so versatile, they can be used for later years as well.
Helps to keep your child entertained and engaged.

Helps to develop fine motor skills, hand-eye coordination, and problem-solving skills.

Helps to promote creativity and imagination.

Helps your child with cause and effect.

Helps to teach your child about shapes, colors, and numbers.

Helps to teach your child about letters and words.
Things to Consider Before Buying a Busy Board:
When selecting your baby and toddler busy board, consider these factors:
Age-Appropriateness:

Ensure the board is suitable for your child's age and developmental stage.

Materials:

Opt for boards made from non-toxic, child-safe materials.

Activities:

Look for a variety of activities that align with your child's interests and stage of development.

Size:

Consider the size and portability of the board.

Durability:

Choose a well-constructed board that can withstand enthusiastic play.

Budget:

It is also an important factor when it comes to the affordability of these boards. 
Top 4 Busy Boards for Toddlers & Babies
In this blog, we will dive into some of the top 4 busy boards perfect for your tiny explorers. We'll show you the benefits of each one, making it super easy for you to pick the perfect one for your child.
As a parent who's tried and tested these boards, we are excited to share our insights and recommendations with you. So, buckle up and prepare for an adventure in finding your toddler's next favorite toy, which might just be a scroll away!
This is a simple and adorable bundle from Nino Mondo that contains a Multi Shape Puzzle, which is a great busy board that will give your toddler a good start in developing fine motor skills. The multi-shape puzzle is a great way to help with their gripping and holding abilities and identifying different shapes.
Pros: 
Lightweight

Portable

Helps in Motor skills development

It also helps in identifying shapes and colors

Great for gifting
Cons:
Careful with those little hands
In this bundle, you will find the Lock Box, a perfect fit for toddler toys for independent and curious play. The Lock Box is a great activity board with 10 different types of locks, helping your kid with problem-solving skills and developing their cognitive skills.
Pros:
Lightweight and best for traveling

Montessori inspired 

Made out of wood and non-toxic materials
Cons:
Not for kids below the age of 19 months
From the house of Nino Mondo, these toddler toys are perfect for sensory development. In this bundle, you will find the Object Permanence Box and the Shape Progression Puzzle, both great for developing hand-eye coordination and independent play. These activities help the kids to explore and develop a creative playtime. 
Pros:
Develops hand-eye coordination

Builds focus and concentration

Colors make it a kid's favorite

Stimulates creativity
Cons:
This bundle from Nino Mondo is an excellent collection of learning toys. Made with high-quality, durable material, these toddler toys are perfect for building motor skills and cause-and-effect relationships. The Balance Board and the Velcro Dressing Frame are great for figuring out practical-life problems.
Pros:
Good for Motor Skills

Made of durable material

Lightweight and portable

Best for gifting too
Cons:
Montessori busy boards can be one of the best gifts for your kids when they are curious and are exploring the world around them. It helps them play and learn, providing them with a fruitful playtime. Experiencing real and practical life through these sensory boards heightens the child's learning experience as well as imagination and creativity.
These activity boards also make a significant impact on parents as they don't have to supervise keeping their child occupied in a great adventure to explore more.
We hope you find the perfect fit for your growing little one among these four busy boards. So, let's start your child's journey to learn and play at best.
Frequently Asked Questions
1.  Are Busy Boards worth it?
Yes, it is worth it as it provides many developmental benefits, especially in developing motor skills. They create the groundwork for essential abilities like handwriting and pencil control, as well as helping your child to focus.
2. Why are busy boards good?
These activity boards give children the first exposure to hands-on learning. It helps develop fine motor skills, problem-solving skills, hand-eye coordination, and bilateral development in your child.
3. Are busy boards good for autism?
Well, these boards are also known as sensory boards, and yes, in autism, they can help create a calming environment for your child and help in focusing. They train in motor skills and activate the brain areas in charge of speech development.