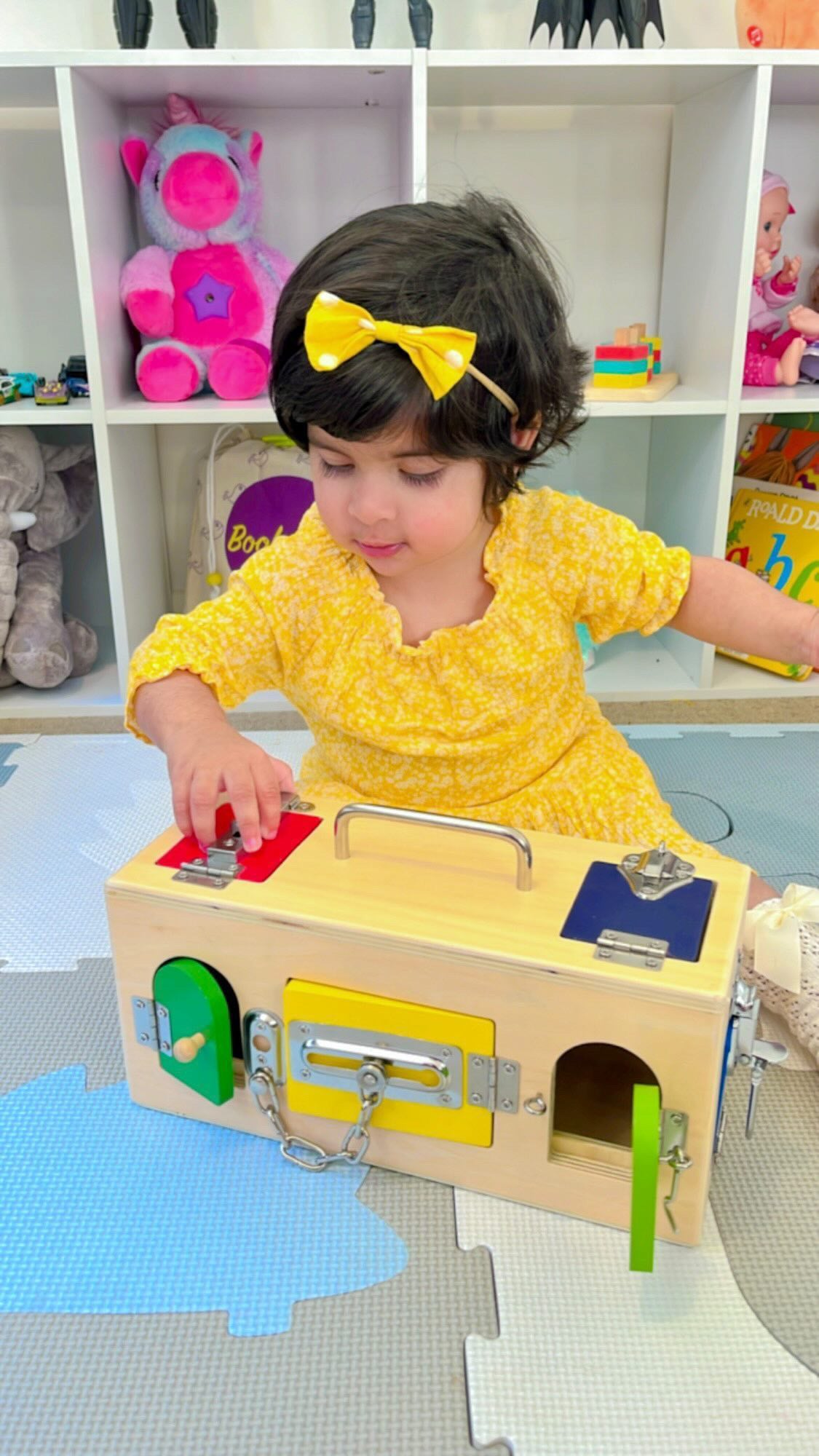 The Lock Box
Introducing the Montessori Lock Box: A Toy that Ignites Curiosity
When it comes to choosing the best toys for our little ones, parents often stumble upon the
Montessori lock box
, a hidden gem that may not be an obvious choice at first. However, once they see their bubs engrossed in play with the
Montessori lock box toy
, they are amazed by the hours of entertainment it provides.
The Montessori lock box is no ordinary toy; it offers a unique and enriching playtime experience. Designed with various latches that progress from easy to complex, this toy not only entertains but also challenges your child, fostering resilience and persistence – qualities that will serve them well in life.
One of the key benefits of the Montessori lock box toy is its ability to develop problem-solving skills in young minds. As children engage with this brain-building activity, they gain an understanding of how things work and eagerly unlock its mysteries.
What sets the Montessori lock box apart is its simplicity in design. With aesthetic colors and no distracting prints or pictures, children can fully focus on the task at hand – unlocking, opening, and closing the latches with precision and dexterity in their little hands and fingers.
As a parent, witnessing your child's sense of accomplishment and self-pride when they successfully unlock the Montessori lock box is a priceless moment. It's a testament to their growing abilities and a joyful experience to share with them.
For an enriching playtime, consider exploring www.ninomondo.com and discover their captivating 'A World Within' Learning Bundle, specially curated for children above 19+ months. The Montessori lock box and other toys in their collection are made from natural materials, ensuring your child's safety while they explore and play. With non-toxic paint and glue, these Montessori toys prioritize your child's well-being.
Not only does your purchase bring happiness to your child, but it also contributes to a worthy cause ninomondo.com proudly fundraises for the Australian Charity 'The Smith Family,' supporting a disadvantaged child's education, making your choice even more meaningful.
Furthermore, with free shipping available Australia-wide, it's easier than ever to introduce your child to the wonders of the Montessori lock box toy. Embrace the opportunity to spark curiosity, learning, and endless fun in your child's playtime. Don't miss out – shop now and watch your child's imagination and skills soar with the Montessori lock box and other engaging toys!